About Us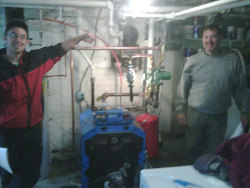 Airco Home Comfort Services is a breed apart from other HVAC contractor businesses. From day one, when we opened our doors in 1997, our focus has been on delivering unbeatable service and value to every customer.
Our furnace and air conditioning contractors have chosen to blaze a new path in how HVAC work is done: bringing you better service at a lower price. We pulled together our best people and made a solemn pact to practice the golden rule, providing Boston-area property owners with the kind of professional installation and repair services we'd want for our own homes.
The ways we heat and cool our living and working environments are continuing to evolve. Thankfully, Airco Home Comfort Services is fully equipped to meet today's increasing demands for energy-efficient heating and cooling systems. We have the hands-on experience, factory-trained technicians, and extensive expertise to address pretty much any indoor climate issue. Most importantly, we genuinely care about correcting your home comfort problems and doing whatever it takes to make your HVAC systems perform better, last longer, and cost less.
Whether you call on us for conventional furnace repair or cutting-edge hybrid heat pumps and solar heating systems, you're sure to notice a stark difference in the service provided by our locally owned and operated HVAC company. We go miles beyond the other guys to bring you environmentally advanced HVAC technology, no-cost estimates, emergency service, and even an outstanding price match guarantee.
All You Could Want in an HVAC Contractor
With Airco Home Comfort Services, you don't have to settle for business as usual. Our licensed, insured, and certified team is simply the front-runner in the Boston region for air conditioning contractors, radiant heat installers, oil-to-gas conversion specialists, and basically any type of HVAC pro you need. We're also a trusted source for home air purifiers and residential plumbing services. Plus, our BBB-accredited furnace company is rated A+ for our excellent workmanship, honest business practices, and superior customer care.
Come experience the very best in HVAC products, pricing, and professionalism. Call or e-mail us today!