In addition to our air conditioning installation and furnace repair services, Airco Home Comfort Services also provides complete heat pump installation and repair. Heat pumps work by moving heat instead of generating it through combustion; they do use electricity to move the heat, but it is a minimal amount. Heat pumps operate along the same lines as a refrigerator, moving heat from a cooler space into a warmer space. During the cold months, the heat pump will transfer warmth from the cool outside to the warmer house, making it even warmer; and during the summer months, the heat pump works in the opposite direction, shifting heat from the cool house to the hotter outdoors, making the house even colder. Most standard head pumps are designed to work with the existing ductwork in your home, so installation is quick and hassle-free.
However, despite their efficiency during warm months, heat pumps can't function optimally at extremely cold temperatures. That's why Airco Home Comfort Services recommends the new hybrid heat pump for installation in the Boston area. These new, ultra-efficient heating systems combine a gas furnace and a heat pump for true year-round efficiency. Like a hybrid car has two energy sources, hybrid heat pumps have two heat sources and can switch between the two automatically for optimal function. Airco offers complete sales and installation on hybrid heat pumps, so if you're ready to upgrade to the best in energy efficiency, call us today!
Carrier Greenspeed Intelligence Cold Climate Heat Pump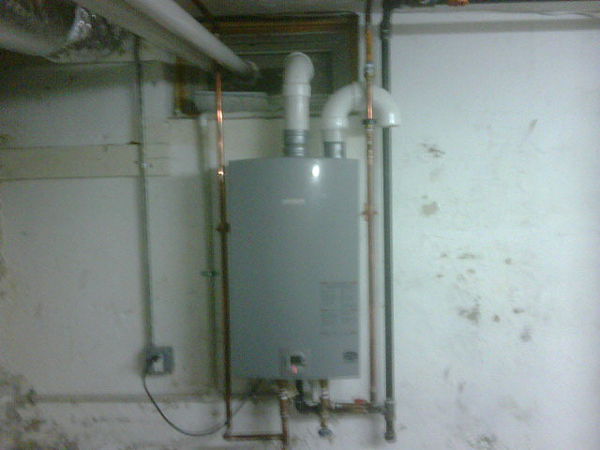 An oil steam to gas forced air conversion in a 150 year old home in Arlington. This is a 99% efficient Bosch GWH850 tankless on demand hot water system that will save our clients over 80% on their fuel bill for hot water production.
Airco Home Comfort Services is pleased to offer a heat pump designed to provide 100% of your home heating and cooling–without needing a supplemental heating source! Carrier's Infinity heat pumps with Greenspeed Intelligence are ideal for cold climates like New England. And with its high-tech, efficient design, this heat pump model can provide substantial savings over traditional heating systems. So what are you waiting for? Call Airco Home Comfort Services today to learn more about a Carrier cold climate heat pump for your house!
These heat pumps offer homeowners a cost-effective, reliable option for heating and cooling your Boston-area home:
Year-Round Comfort: Winter, summer, spring, and fall, the Carrier's Infinity heat pump with Greenspeed Intelligence installed by Airco provides year-round comfort with high efficiency heating and air conditioning. Innovative multi-stage operation means it generates only the heating and cooling you need, minimizing waste while still achieving optimum comfort for you and your family.
Savings: These heat pumps use energy-efficient technology that helps you reduce your energy consumption and lower your bills at the same time. With electricity remaining the most price-stable energy in today's volatile fuel markets, homeowners can rely on your heat pump from Airco Home Comfort Services for predictable heating and cooling costs. In fact, these heat pump systems operate at efficiencies of up to 20.0 SEER, 16 EER, and 13 HSPF.
Reliability: Built by an industry leader in home HVAC systems, your Carrier system offers durable, time-tested components for years of reliable service. All components–from the outdoor cabinet to the programmable thermostat–are made to last.
Your HVAC contractors at Airco are ready to help you efficiently heat and cool your home–and save big on energy costs–with this cold climate heat pump. Call us today to learn more about how this Carrier model can help keep your home comfortable all year round!
Ground Source Heat Pumps (Geothermal Heating and Cooling)
In addition to traditional heat pumps, Airco Home Comfort Services is pleased to offer efficient and environmentally friendly ground source heat pumps. These systems are among the most efficient heating and cooling options on the market today–and they're eco-friendly as well as inexpensive. The concept is relatively simple: a loop of piping is installed in the ground under your home and depending on the season, a liquid (either antifreeze or water) flowing through the loop heats or cools your home. In the summer, the relatively cold soil cools the hotter liquid before returning to the house and in the winter the relatively warm soil heats the liquid and subsequently your home. It's a safe, renewable alternative to fossil fuels and can help reduce your home heating costs by as much as 70%!
Airco Home Comfort Services has extensive experience installing ground source heat pumps. We have the skills to analyze geological conditions and soil types to find the best location for your ground loop. We'd love to help you save money and go green at the same time. Call us today to learn more about installing a ground source heat pump for your home or office.