If you're looking for a hot water heating solution that's eco-friendly and has extremely low operating costs, look no further than solar heating. Solar heating systems allow you to dramatically cut your energy bills by providing up to 80% of your home's hot water! Airco Home Comfort Services is one of the Boston area's leading specialists in solar water heating systems, and we'd love to help you learn more about these incredibly green, efficient heating solutions!
Solar heating is ideal for:
Hot water
Radiant floor heating
Swimming pools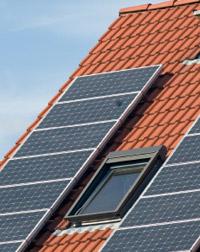 Although solar hot water heating systems do involve substantial installation expenses, they usually pay for themselves in under five years (between huge energy cost savings and government rebates). And, unlike other water heating options, once the equipment is paid off, you have almost no fuel costs. After all, why not harness the free energy of the sun! Solar heating systems from Airco Home Comfort Services are a great way to save money AND do something good for the planet at the same time.
Airco specializes in solar heating systems, so we have the know-how and hands-on experience to install these complicated systems. Unlike some local HVAC companies, we've been working with solar heating for years–you can trust us for professional, correct installation and a job done right! We also offer free consultations to help you determine what type of solar water heating system is suitable for your home or business.
While some homeowners may be wary of installing solar heating systems because of the hassle of obtaining permits and complying with zoning regulations, Airco Home Comfort Services takes the stress out of solar heating system installation by handling all the details. From obtaining permits and ensuring that plans are in compliance with local code through the final installation and safety inspection, we're here to make installing eco-friendly solar heating a breeze. Airco also offers solar heating maintenance to keep your system in great working condition.